Appearances & Workshops
I love to talk about books and writing with children, teens, and/​or adults at schools, libraries, conferences, and literary festivals. I hope you will consider having me visit to share my passion for history and research, reading and writing, and that my enthusiasm can inspire or encourage others.
School Visits
For young readers, I focus on my picture book titles. Emphasizing the creative process, I take students through the birth of a book—from the first ideas—all the way to publication. I discuss in very simple terms character, plot, and theme, the wonderful collaboration of working with the phenomenal illustrator Lynn Munsinger, and what inspired the stories. Plus the importance of editors (very akin to teachers, I say.)
With middle grade and teen readers, I like to focus on what drives my writing—the fun treasure hunt of research! Sharing some of the more engrossing and even gross tidbits of historical fact I discover while digging through primary documents, memoirs, and history books to research my novels seems to grab students' attention and bring whatever time period we're discussing to life. I provide a quick review of the major events and political movements involved. I am happy to jump centuries and novels from assembly to assembly and, as a former magazine journalist, can address nonfiction writing and reporting techniques as well. It keeps the day interesting to have the variety! I am happy proof that once a person knows how to write, he or she can enjoy writing in multiple genres.
My basic fee for school visits includes up to three assembly presentations, a book signing, and an informal lunch OR afterschool session with selected students or teachers (if desired). Workshops (see below) are also available. I'm happy to visit more than one school on a trip, if you would like to connect with a nearby school to share travel costs.
Books may be purchased from my publishers at a 40% discount when ordering for a visit.
Skype Presentations
I am equipped to virtually visit (using Skype) with students of all ages. For a fee, I provide an hour-long session with a 45-minute presentation and time for Q&A for groups of 50 participants or fewer.
If you are teaching one of my books as part of your ELA, social studies or history curriculum, share your lesson plan with me to enter to win a FREE Meet the Author Skype visit for your students. Please contact me for details.
Workshops
Workshops can complement or be substituted for school assemblies or be offered as a stand-along opportunity. I include elements of my assembly presentations but the workshop format allows for more concentrated and targeted discussion.
Treasure Hunt of Research
I show students in grades 5-12 how research really is a treasure hunt and what to do with the gems of details the hunt yields. I speak on my individual books, the research involved, and how my research tells me what to write. I also demonstrate how student authors can read and use primary sources and research in their own writing and help kids understand how to think about and interpret history. I display photographs, mostly from WWII, (compelling, but not graphic images) and ask students to tell me what they see, what they think it means, and then to create a sketch, dialogue, or character study, using the photos as a springboard to both critical thinking and imagination. Additionally, I share primary source documents—such as a warning flyer Allied planes dropped over French villages to tell inhabitants to evacuate before Patton's tanks rolled in—to emphasize the most important "rule" of writing: show rather than tell.
This workshop can also be presented to teachers, providing educators with strategies for helping students analyze primary sources and techniques for promoting historical inquiry.
Reporting Stories
I use my two decades of experience as a journalist to show students in grades 5-12 how to distill a large, unwieldy topic into a compelling narrative—by finding real live people who endured the events and political movements of a time period. That humanizes it. I share what students need to listen for and watch for in real life in order to recognize the extraordinary in the ordinary and put what they see and hear into words. And I focus on the value of including multiple viewpoints, and the importance of revision and editing.
This workshop can also be presented to teachers, providing educators with new techniques for teaching creative writing.
Historical Fiction in the Classroom
I can help teachers know how to evaluate historical fiction's accuracy and validity and make the most of this genre in their Common Core classrooms. Historical fiction can give students background knowledge and serve as a springboard for launching research projects and for discussing controversial issues in history. Please see above for how research and well-done historical fiction (notice my emphasis on well-done) can humanize history. Strategies for helping students differentiate between fact and fiction, ideas for pairing fiction and nonfiction, and tips for working across the ELA and social studies curriculums are part of this workshop.
Group sizes for all workshops are limited to 75 or fewer participants. Workshops can be offered in conjunction with school visits or as stand-alone learning opportunities, so fees vary. Please contact me to discuss. I'm also happy to work with you to tailor a workshop to your needs or focus on a particular book if there is a special interest.
Author Appearances
Fees for appearances or presentations at public libraries, book festivals and professional conferences vary. Please contact me for more information.
Upcoming Events:
P& P Live! at Politics and Prose with Leslie Connor
Nov. 18 at 2 PM
Link: https://www.eventbrite.com/e/pp-live-lm-elliott-storm-dog-with-leslie-connor-tickets-126886014485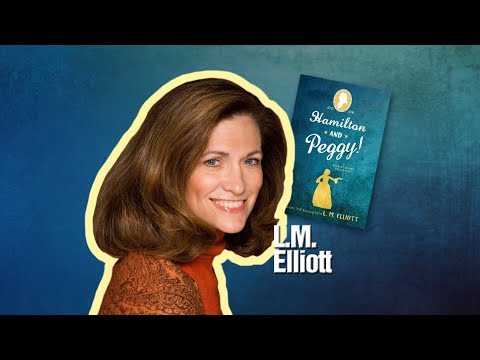 Hamilton and Peggy Book Talk with FCPS TV
In this mini-talk and reading of HAMILTON AND PEGGY, L. M. Elliott describes discovering Peggy Schuyler's personality and relationships through reading Alexander Hamilton's wonderfully gossipy letters, as well as her real-life courage and devotion to family when researching factual historical events during the Revolution. Elliott reads two example passages of using revealing primary documents to build character and story, as well as sharing tidbits about the lesser known characters in the Hamilton/Schuyler Sisters circle.
Watch Now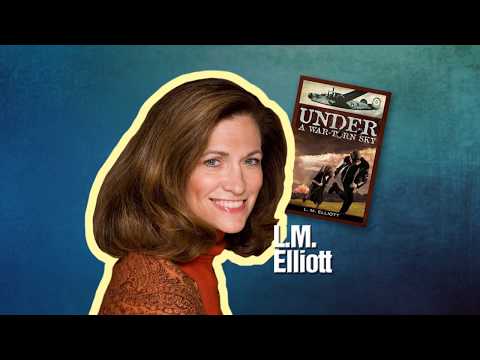 Under A War-Torn Sky Book Talk with FCPS TV
In this mini-talk and reading of UNDER A WAR-TORN SKY, L. M. Elliott talks about how well-researched period fiction humanizes history, bringing it alive through the compelling story of individual characters. She reads a chapter in which Henry Forester has his first encounter with the French Resistance as they help him escape from a train, asking the listener to count the "maquisards" involved in the getaway.
Watch Now
---